Google Chrome Web Store is a great place to find new and exciting Chrome extensions. With so many extensions available, it can be hard to know which ones are worth your time. To help you out, we've compiled a list of the best Chrome extensions that are sure to make your life easier in 2022. From productivity boosters to security enhancers, there's an extension for everyone on this list. So without further ado, here are the must-have Chrome extensions for 2022!
Here is the list of the best Chrome Extensions you must try in 2022:
tabExtend – Tab Manager
Organize your tabs into groups for easy reference later with tabExtend. You can add notes to each tab, so you'll never forget why you saved it in the first place. Plus, with the sharing feature, you can easily send your tabs off to a friend or colleague. They'll thank you for making their life easier!

The best part? By clicking the "Save All Tabs" button in tabExtend, you can save your tabs as a project. The next time you need those tabs, simply click on the "Open Project" button, and they'll all open up in new tabs!
Features
Manage tabs
Notes / To-dos
Popover with saved notes on any site
Sync data between devices
Import bookmarks and top sites
Save selected text-snippets
Search sites and items
Dark/light theme
Shared workspaces
Share categories via a public link
Upload custom emojis
Limitations
You can only save up to 30 links in the free plan
You can't add To-do in the free plan
You can't use different workplaces on other devices
TabExtend is the ultimate tab manager for Chrome. It's simple, efficient, and easy to use. Give it a try today!
LanguageTool – Online Grammar, Style & Spell Checker (Grammarly Alternative)
If you're looking for a grammar checker that can help you with your writing, then you should check out LanguageTool. It's an online tool that can check your grammar, style, and spelling. It's a great way to improve your writing skills and make sure that your work is error-free.
Features
Finds many errors that a simple spell checker cannot detect
No registration is needed
Supports more than 25 languages
Works on almost any website including Gmail, Facebook, Twitter
Limitations
We didn't find any limitations like Grammarly forcing users to upgrade to premium. We recommend LanguageTool over Grammarly. Must give it a try!
Checker Plus for Gmail™
If you use Gmail, then Checker Plus for Gmail™ is a must-have extension. This extension allows you to see all of your unread emails, even if you have multiple Gmail accounts. It also provides popup notifications whenever you receive a new email, so you'll never miss an important message again.
In addition to email notifications, Checker Plus for Gmail™ also provides a calendar and To-Do List integration. This way, you can keep track of all your upcoming events and tasks in one place. The extension also includes a handy search function, so you can quickly find any email you need.
Features
Supports Push Notifications
Instant Notification
Voice notification
Beautiful Material Design
Do not disturb mode
Compose new Email Directly
Supports offline view
Limitations
Some features are under the donation plan, You can donate to the author to unlock those features.
Overall, Checker Plus for Gmail™ is an essential extension for anyone who uses Gmail on a regular basis. It's simple to use and makes staying on top of your inbox a breeze.
Workona | The work organizer for the browser
If you're like me, you spend a lot of time in your browser. That's why I'm always on the lookout for new Chrome extensions that can make my life easier. Workona is one of those extensions.
Workona is a work organizer for the browser that lets you create, manage, and share your workflows. You can use it to organize your tabs, take notes, and even save entire sessions for later. It's a great way to stay productive and organized while working in your browser.
Features
Save Windows
Save Tabs
Search Tabs
Sync on all devices
Limitations
You can only save up to 5 workplaces in the free plan
Team Options are available on the premium plan
I highly recommend giving Workona a try if you're looking for a better way to manage your work in the browser. It's helped me stay more organized and productive, and I think it can do the same for you.
Wordtune | Your personal writing assistant & editor
Wordtune is an extension for web browsers that provides a set of tools and features to help users improve their writing skills. It is designed to be used with text-based documents, such as articles, blog posts, or academic papers. Wordtune checks the grammar, spelling, and style of your writing and provides suggestions for improvement. It also includes a thesaurus to help you find synonyms and related words, as well as a plagiarism checker to help you avoid accidental plagiarism. Wordtune also offers personalized writing feedback and collaboration tools to help you work with other writers. Overall, Wordtune is a comprehensive writing tool that can help you produce high-quality written content.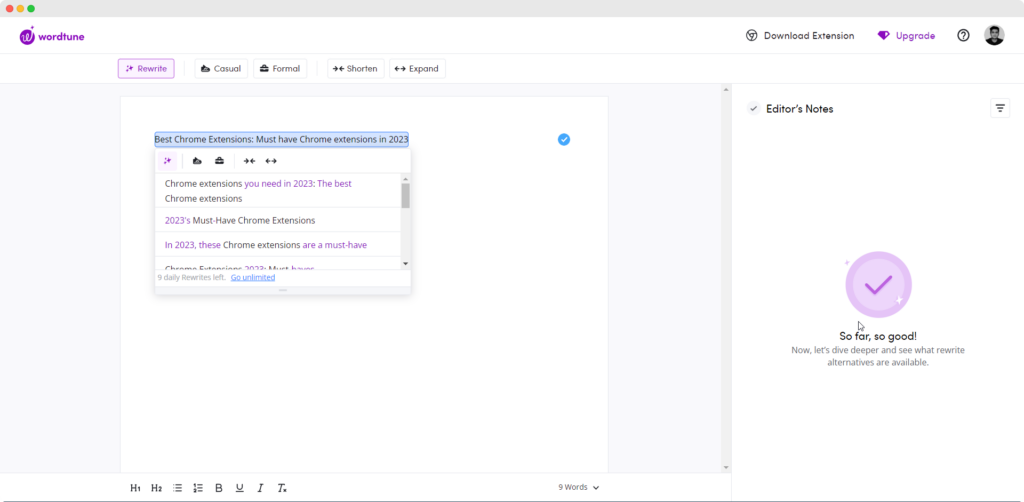 Grammar check: Wordtune checks the grammar of your writing and suggests corrections for any errors.
Spelling check: Wordtune checks the spelling of your writing and suggests corrections for any misspellings.
Style check: Wordtune checks the style of your writing and suggests improvements to make it more effective and engaging.
Contextual thesaurus: Wordtune provides a thesaurus that helps you find synonyms and related words to improve your vocabulary and make your writing more varied and interesting.
Plagiarism check: Wordtune checks your writing against a database of online content to help you avoid accidental plagiarism.
Writing prompts: Wordtune provides writing prompts to help you get started with your writing or to overcome writer's block.
Personalized writing feedback: Wordtune provides personalized feedback on your writing based on your writing style and goals.
Collaboration tools: Wordtune provides tools for collaborating with other writers, including the ability to share and edit documents in real time.
Limitations
You can only use it 10 times in Free Plan
Some features are disabled in the free plan
Conclusion:
The end of 2022 is quickly approaching, and 2023 is just around the corner. There will be new Chrome extensions released that make your web browsing experience even better. With the ever-growing library of Chrome extensions, it can be difficult to decide which ones are the best for your specific needs. We've done the research and highlighted some must-have new Chrome extensions in 2022. These extensions will help you be more productive, stay secure, and make your web browsing experience more enjoyable. So, if you're looking to maximize your web browsing experience in 2023, be sure to check out these must-have Chrome extensions.
About Author